While attending the execution of a document and bearing witness to the authenticity of the signature, one is required to sign their name to it to affirm that it is genuine. A custodian of records then certifies that a copy of an original document is a true copy by signing the certificate. 
Notary attestation is a declaration by a witness that an instrument has been executed in his or her presence according to the formalities required by law. It is not the same as an acknowledgment, which is simply a statement by the document maker that verifies its authenticity.
An attestation clause is frequently found in legal documents that must be witnessed if they are to be valid. This is commonly seen in wills and deeds and states that the instrument has been completed in the manner required by law. In some states, notaries are allowed to make an attested copy of an original document if it is not a vital record or recordable document—as long as it is done in the presence of the witness who places his or her signature in the designated space.
Make certifying the signatures even easier with our official notary stamp and other notary supplies. Our certificate stamps measure 3-1/8'' H x 2-1/4'' L and fully comply with state statutes.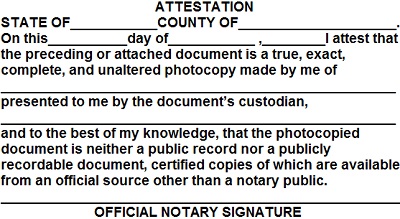 #219 - MarkMaker Over-Sized Rubber ($18.95): Unlimited impressions using stamp pad (not included).