Exceptional impression quality that leave a clear, raised and sharp impression every time. All desk notary seal embosser's measurements fully comply with state statutes.
Use in conjunction with the official seal stamp.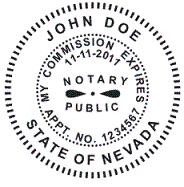 #201 - Desk Black Matte ($29.00): Provides an engraved brass plate with your commissioned name and state seal. Designed to last a lifetime and allows embossing on a document where a standard embosser cannot reach.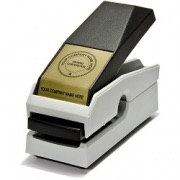 #199 - Desk Pebble Grey ($34.00): This elegant, precision-made cast desk embosser makes a perfect addition to any desk or office. The embosser is solid construction metal cast to create a smooth, beautiful surface. It has a felt, no-scratch base that will prevent damages to any surface on which it is placed.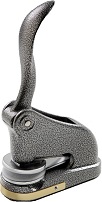 #197-S - Desk Black Steel ($36.00): Allows the user to apply less pressure with their hand while increasing the amount of pressure the seal actually applies to the page. The solid steel construction ensures a lifetime of rigidity, durability and overall product quality. Additional features include a unique and beautiful black finish along with skid-proof feet designed to protect any surface on which it is placed.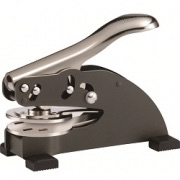 IMPORTANT: Please fax or email proof of your certificate of appointment to 1-800-637-5992 or statenotice@notarybonding.com to complete your order.