Official notary stamp and notary packages for Oklahoma

 Oklahoma Notary "Discount" Association Co.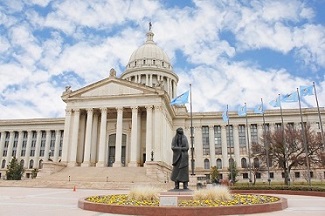 Oklahoma Notary "Discount" Association Co. is your one-stop shop for becoming or renewing your notary public commission. Since 1940, we have made life much easier for new and renewing notaries in the great State of Oklahoma.
We are pleased to be your primary Oklahoma notarial provider, allowing you to purchase your required 4-year $1,000 bond and other supplies at low cost prices. Everything you need is right here in one place, from notary bond packages to replacement seal embossers or stamps.
Streamlining the process: If you are interested in becoming a notary public but don't know where to start, start with us. We will handle all of the processing with the Secretary of State, and we will even pay your commission fee. Once you are commissioned, you will receive your bond, errors and omissions policy, and certificate of office, as well as a free official seal stamp. Save time and hassle by also allowing us to file your bond with the Secretary of State; fee details will be sent with your bond paperwork. Contact us today to learn more about our valuable solutions and notary supplies package.
Important State of Oklahoma Notary Links
Change of Name / Change of Address Procedure Guide (PDF)