The Borrower's Bill Of Rights
There's not much in life that is more important to you and your family than your home. That's why it's important to know your rights and the signs of predatory tactics when taking out a mortgage or a home equity loan.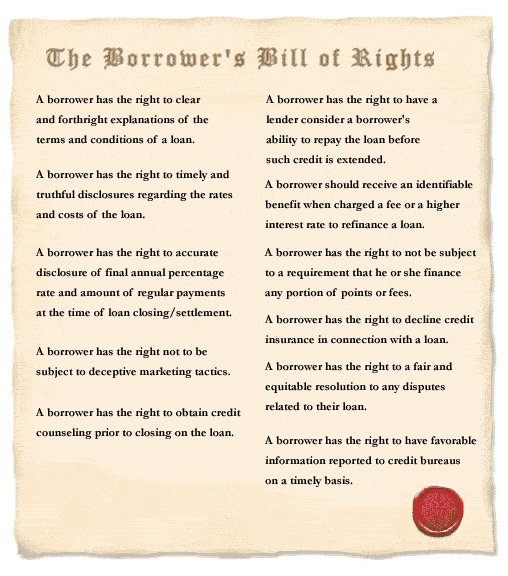 ---
Red Flags Of Potential Predatory Lending
BIG FEES:
"Points" or "discount points" are the lender's fee for making the loan. Generally, a charge of three points 3% or less of the loan amount-is a good deal, including such necessities as an appraisal and title insurance. Get your credit score in advance and research typical fees in your area.
ENCOURAGED TO ADD FALSE INFORMATION:
If, during the application process you've been encouraged to falsify any information, this is a massive red flag.
PENALTIES FOR PAYING OFF EARLY:
A "prepayment penalty" requires you to pay a steep fee before refinancing. The penalty period can last several years and cost thousands of dollars.
MISSING DISCLOSURES:
Make sure none of the following disclosures are missing from your loan file: good faith estimate, truth in lending, special information booklet, HUD-1 settlement statement.
INFLATED INTEREST RATES FROM BROKERS:
Brokers can make more money if they boost the interest rate above the lender's actual charge. Ask if your broker will be paid a "yield-spread premium" - a financial reward lenders pay for inflated interest rates.
STEERING AND TARGETING:
Predatory lenders often target senior citizens and low income families to place them in unnecessarily expensive loans. Don't respond to ads that say bad credit doesn't matter, and be especially wary of lenders or brokers who contact you or those who try to rush you into decisions.
ADJUSTABLE INTEREST RATES THAT "EXPLODE":
Beware of adjustable-rate loans that can rise significantly, especially if it isn't possible for the interest rate to go lower, only higher. Make sure you understand the worst-case scenario for future payments. And don't count on a future refinance to rescue you from an unaffordable loan.
UNEXPECTED SETTLEMENT COSTS:
If any costs arise that were not explained prior to your settlement, this is also typical of predatory lending.
PROMISES TO FIX PROBLEMS WITH FUTURE REFINANCES:
Predatory lenders are notorious for selling bad deals by promising that they will refinance the loan later. If a loan stretches you too much now or in the future, just say no.
REPEATED REFINANCES THAT DRAIN YOU:
Repeated refinances-"flipping"-mean you lose more money in points and fees every time. Don't be tempted by a bit of cash when you might end up owing even more on your house, losing valuable equity, and paying more than necessary.
DAILY PENALTIES FOR LATE PAYMENT:
If a close examination of your documentation reveals daily interest penalties, know that this is not typical.
REQUIRED PURCHASE OF CREDIT INSURANCE:
Were you required to buy credit insurance, insurance that will repay the debt if you die or become disabled? (Note: Credit insurance is optional and will not affect your loan decision if you decline to buy it. It can, however, add considerable cost to the loan transaction. You should decide whether you are going to pur-chase credit insurance carefully.).
NOT COUNTING TAXES AND INSURANCE:
Know in advance whether your monthly mortgage payment will include the costs of property taxes and insurance (i.e., whether the lender has established an escrow account for these costs). Unscrupulous lenders make house payments seem artificially low by not counting all costs-which you will be required to pay.
---
Reporting Mortgage Fraud
If you have been a victim of mortgage fraud, please go to the stopfraud.gov website to file your complaint.
---
Eight Steps To Protect You Against Mortgage Fraud
STEP 1:
Use a licensed and trained notary; they will be completely up to date on the latest prevention and detection techniques.
STEP 2:
Have your notary in the room with you when signing. It is required that you appear in person to have your signature notarized, even when documents have been exchanged electronically, this is a critical step in protecting yourself.
STEP 3:
Make sure to completely understand the terms, loan type, and interest rate of your mortgage. Also, be sure that all of these are the same amounts, types, and terms as when the document was first drafted.
STEP 4:
Know the terms of your rescission period if applicable to your loan agreement. However, also know that if you do cancel your deal in this time frame you may lose your mortgage rate and terms.
STEP 5:
Clarify concerns with your loan officer, not your notary. A notary is an impartial witness and will not know the specifics of your agreement, terms and rates.
STEP 6:
Do not sign any loan document that contains empty spaces or blanks. These blanks make buyers very susceptible to fraud as they can be altered at a later date.
STEP 7:
Double check all personal information. Make sure that all information matches across all the documents and there are no imperfections, mismatches or differences.
STEP 8:
Always use the name stated on your Primary Identification. This ensures that the process will go smoothly, as problems can arise if multiple names, even shortenings appear on different documents like the application and the closing papers.